Webinar: VDSL2 - New solutions for improving your Copper deployments
September 19, 2019 11:00 AM Pacific Time
(US and Canada)
New opportunities for your existing copper deployments with new VDSL2 CPEs that provide performance and flexibility with your service offerings. There are two new VDSL2 solutions to meet your service needs with Bonded or Single pair connections. Easy to deploy in a single port Modem or fully integrated dual-band 11AC Wi-Fi for unsurpassed whole home networking with Zyxel's Multy Pro mesh system. Maintain and manage your subscriber's VDSL2 CPE using remote management and TR-069.
Attend this Webinar you'll have the opportunity to learn:
Two different VDSL2 CPE deployment options
Bonded and Single line with profiles 17a and 35b
High performance dual-band 11AC WiFi
Managing your CPE with TR-069, TR-143, and TR181i2

Patrick Moreno Product Marketing Manager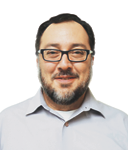 Patrick Moreno is the Product Marketing Manager for Zyxel Communications, Inc. He handles product line related marketing supporting nationwide and regional telecommunications vendors to the benefit of both Zyxel and its clients. Moreno holds numerous Zyxel Certified Network Professional certificates including FTTx, DSL, VoIP, Switch, and Wireless. He is capable of speaking across multiple networking topics and often works directly with customers. His wealth of experience, focus on the customer, and true caring about the success of the organization - along with the people within it - make for an excellent combination within Zyxel.